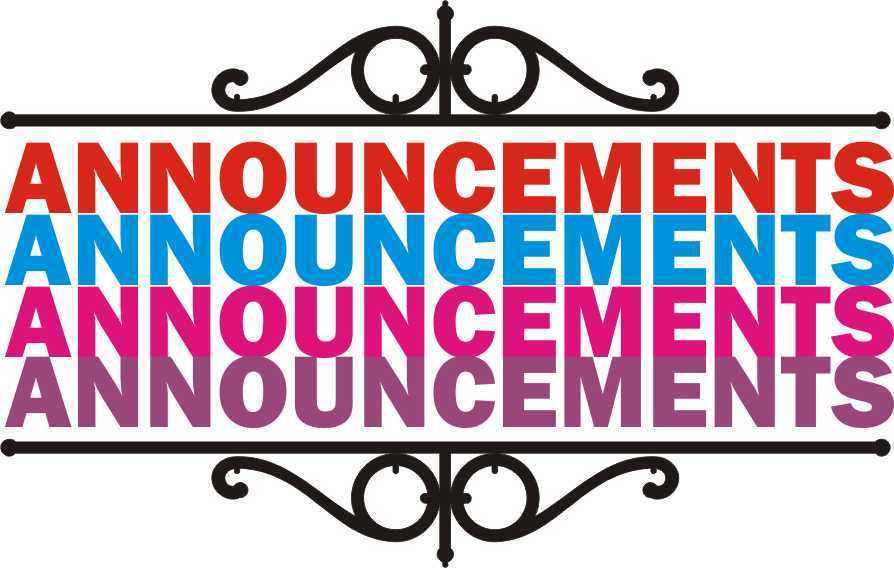 Schedules:
Nursery:
11/3 – Rhonda Purcell
PreSchool Children's Church:
11/3 – Erica Franklin
11/10 – Kim McDermith & Leia Douglas
Wednesday Evening Nursery:
11/6 – Erica Franklin
Wednesday Evening Menu:
11/6 – Turkey, Mashed Potatoes & Gravy, Corn, Cookies
Need: If you would like to help, please see Reta ice
Announcements:
GriefShare: Surviving the Holidays will be on Sunday, November 3rd, 3-5pm here at the church. If you would like to be a blessing to someone by volunteering at our Surviving the Holidays event, please contact Jeannie Stringer or the church office. For more information or to pre-register click here.
Share Jesus Without Fear: If you've not signed up for a class, and you're interested, please contact the church office.
Sisters for Christ, Monday, November 4th, at 6pm here at the church.
TeamKID
meets on Wednesdays at 6:30pm. TeamKID is for children age 3 through 5th grade. A light meal is served at 6pm. Please let the church office know if your child needs a ride.
November Business meeting, Sunday, November 10th, 6pm
Sisters Lunch, Wednesday, November 13th at 12pm at Spring Garden.
Drive Thru Christmas 2019 is QUICKLY approaching. It will be on December 7th & 8th this year! If you are interested in participating this year, please get your name on the sign-up sheet in the foyer!!
WE HAVE AN APP!!!
2. When the app is downloaded, open the app and search for "OBC Houston, MO".
The app is updated weekly (usually on Monday unless it's a holiday). To view the update, click on the circular arrows in the menu to get the updates. If you have any questions or need any other help, just contact the church office.
Don't forget we have online/text giving. You can click
here
for more information.