TeamKID is our new children's program that will begin on

Wednesday, September 4th

. There will be a light meal served at 6:00pm and TeamKID will be from 6:30pm to 8:00pm.
If you would like to pre-register your child, please click the logo above.
TeamKID is a fun, high-energy ministry that encourages kids to know Jesus Christ and grow in a relationship with Him. ! It features Bible memory games and application of Bible truths, engaging missions videos and activities, and fun activity-based learning all while helping your kids grow to be more like Jesus.
TeamKID: Setting the Pace is a step in helping kids grow in their Christian faith. Kids will explore topics about the theology of God, Jesus, People, the Church, the Bible, and the Christian Life. Setting the Pace will give kids a better understanding of the nature of God and Jesus. Available in preschool and children's editions.
Questions addressed include:
• Why should we worship God?
• How was Jesus' birth special?
• How are people important to God?
• What is the church and how is it important to God's work?
• How can I live a Christian life?
"Setting the Pace" is a term many of today's athletes use to indicate they have set the standard for others to follow. We are using Setting the Pace imply the importance of growing closer to God by following Him through studying His Word and in fellowship with others. TeamKID: Setting the Pace wants kids to recognize their relationship with God is the most important relationship of all!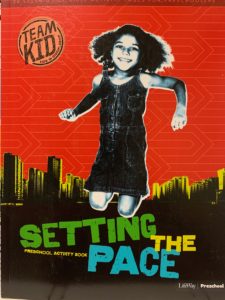 Some children learn best when they see an object or picture. Others learn better by listening as you tell a story or explain the details. Still others learn more when they are able to touch, handle, move around, and do something related to the concept you are teaching.
TeamKid for preschool is for children age 3 – Kindergarten
. It appeals to all these learning styles in one energy-packed, exciting meeting. The Bible story and its modern-day application are clearly part of everything the children experience, whether it's art or a game or other kinds of activities.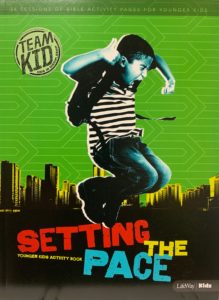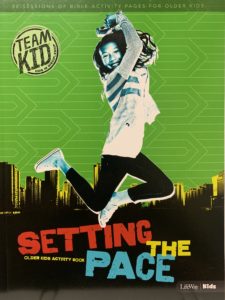 The younger kids group is for children in grades 1 – 3, and the older kids group is for children in grades 4 & 5.
TeamKID is designed for children to do more than memorize Scripture. It helps children understand what the verses they memorize mean, because all parts of the TeamKID meeting focus on one Bible message. The games, Bible story, memory verse, missions, refreshments, and conclusion all contribute to help children understand and apply God's Word to their lives.
The younger children may find it difficult to learn a whole memory verse. Some longer Bible verses have been shortened for beginning readers.