GriefShare is for people grieving the death of a family member or friend. It may be hard for you to feel optimistic about the future right now. If you've lost a spouse, child, family member or friend, you've probably found there are not many people who understand the deep hurt you feel. This can be a confusing time when you feel isolated and have many questions about things you've never faced before.
GriefShare groups meet weekly to help you face these challenges and move toward rebuilding your life.
Our next GriefShare class will begin with the first session on February 7, 2019, 6-8pm, and will meet for the next 13 Thursdays.
If you are interested in attending, please contact the church office.
Call (417) 967-2940 or email at office@ozarkbaptistchurch.com.
We also have a facebook group, which you can request to join here.

GriefShare: Surviving the Holidays is a helpful, encouraging seminar for people facing the holidays after a loved one's death.
Sunday, November 4, 2018, 3-5pm.
Child care is available
The seminar features video interviews with counselors, grief experts, and other people who have experienced the holidays after their loved one's death and who offer practical suggestions and reassurance. These people share honestly about:
Being prepared for surprising emotions that may hit over the holidays
What to do about traditions and other coming changes
How to handle holiday parties and invitations
How to survive potentially awkward moments with other people
Where to find comfort, strength, and hope in a seemingly hopeless time
Those who attend will receive a Survival Guide filled with practical tips, encouraging words, journaling ideas, and exercises for daily help through the holiday season.
Please contact the church office if you are interested in attending this seminar.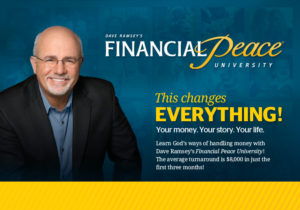 Financial Peace University (FPU) is a nine-week class on money taught by America's most trusted financial guru, Dave Ramsey. Dave and his teaching team will walk you through the basics of budgeting, dumping debt, planning for the future, and much more!
Session 1 will be on Tuesday, September 18th, at 6:30pm, and the class will meet on Tuesdays at 6:30pm for 9 weeks.
Materials are $100 per family.
Click here to register with our class and to order your materials.
Click here for a preview of the lessons included in the Financial Peace University curriculum.